Celebrate With Us as we look back at what God has done through
Grace Community Church
Pray With Us as we look forward to what God Will Do in Our Community and our world.
T-shirts are available for purchase to celebrate the events of Community Week.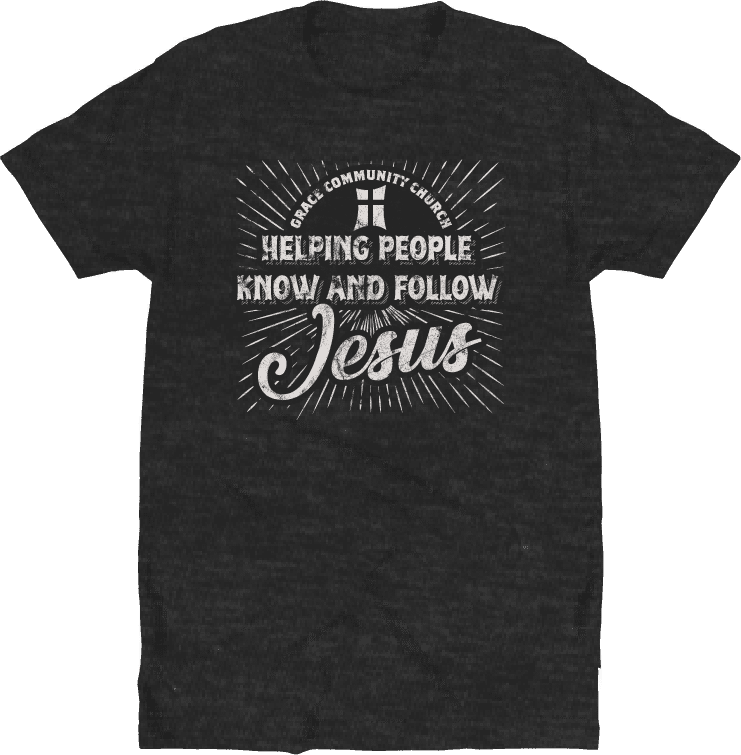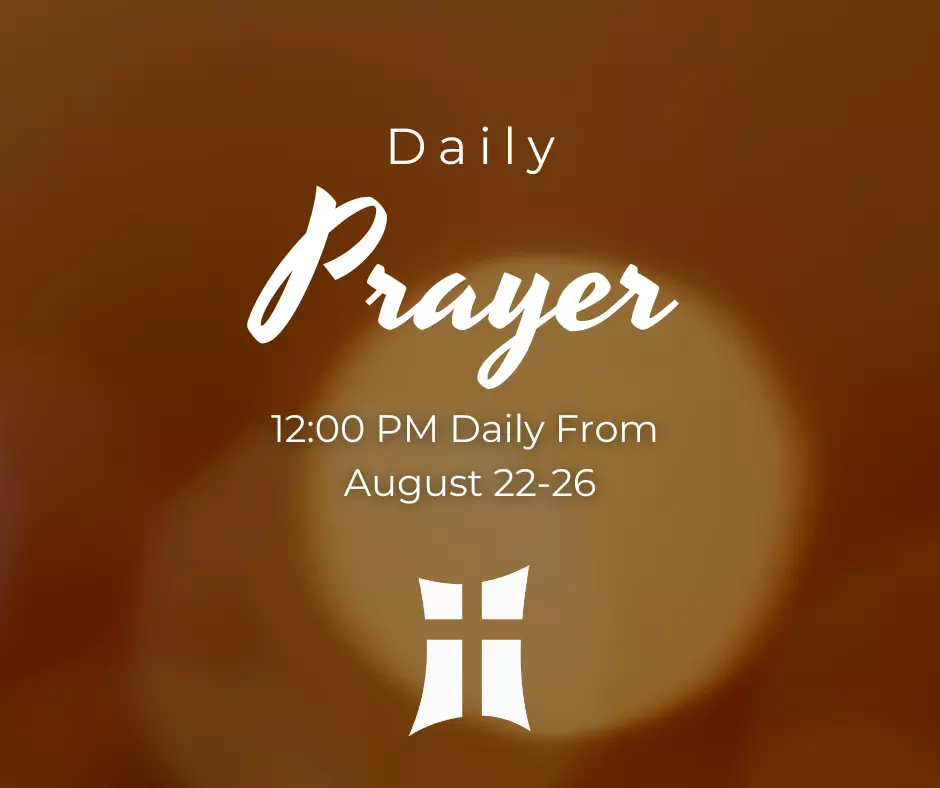 Each day of Community Week will feature prayer meetings at 12:00 pm noon hosted by a GCC leadership team member.
Drop by any day at noon to join the prayer meetings.
If you haven't seen the new building yet, contact Pastor David to receive a tour of the completed building hosted by one of our staff members or volunteer leaders.
August 20 – 28 will be a week of celebration focusing on God's faithfulness through the completion of the facilities in Willow Street. We've seen the Gospel message spread out from GCC for almost three decades in five different facilities. During Community Week you will find pillar events for every age designed to celebrate this very thing!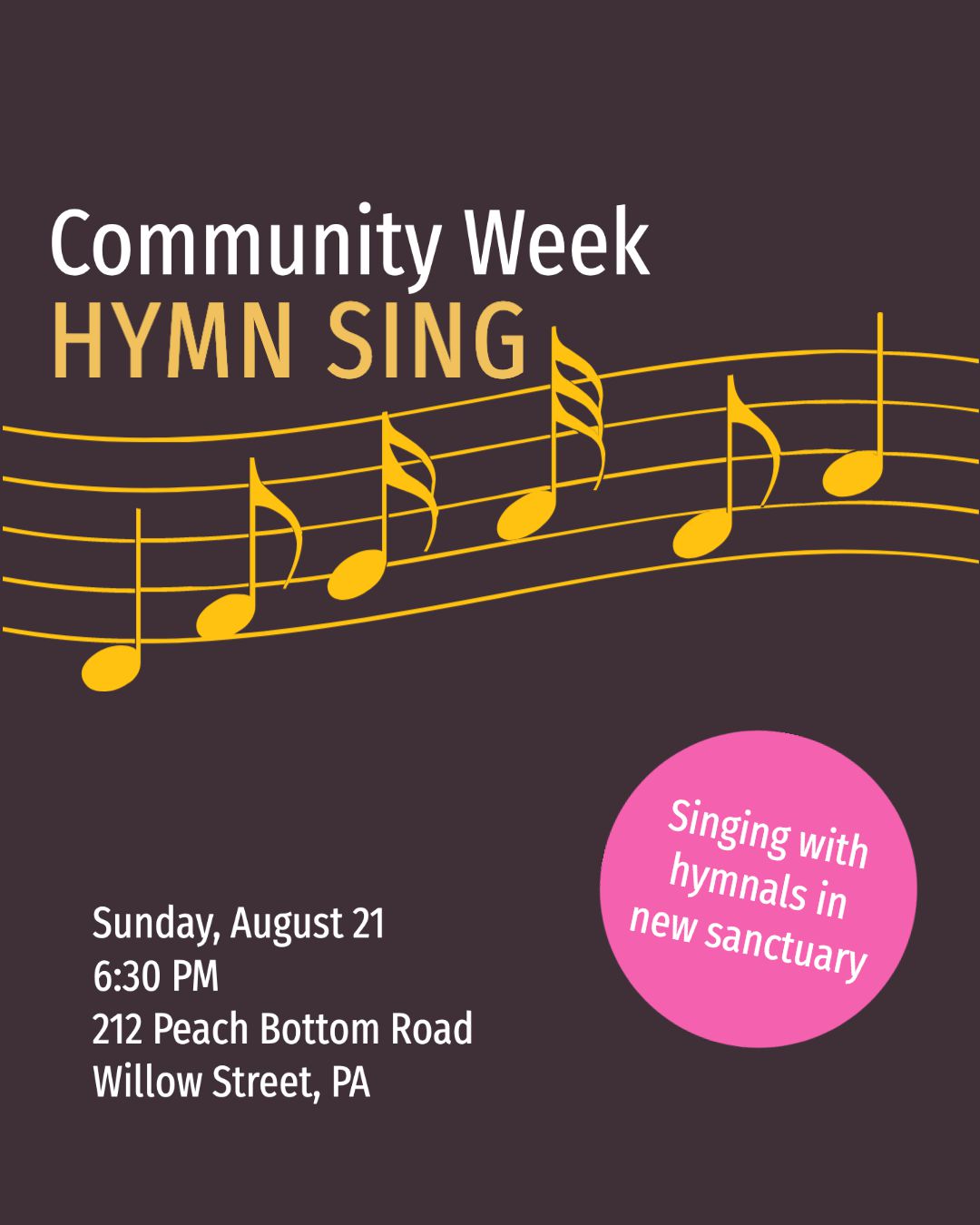 We will host a Hymn Sing on Sunday, August 21 at 6:30PM in our brand new sanctuary where we'll come together, with hymnals, and sing in one voice to the Lord! Arrive a bit early so you can receive a hymnal, pick a song suggestion, and place it in a bucket at the front of the room. This hymn sing will be a partnership event with every sister church in the Red Rose District of EC Churches invited to join. Join us to sing of God's faithfulness as we celebrate Community Week together!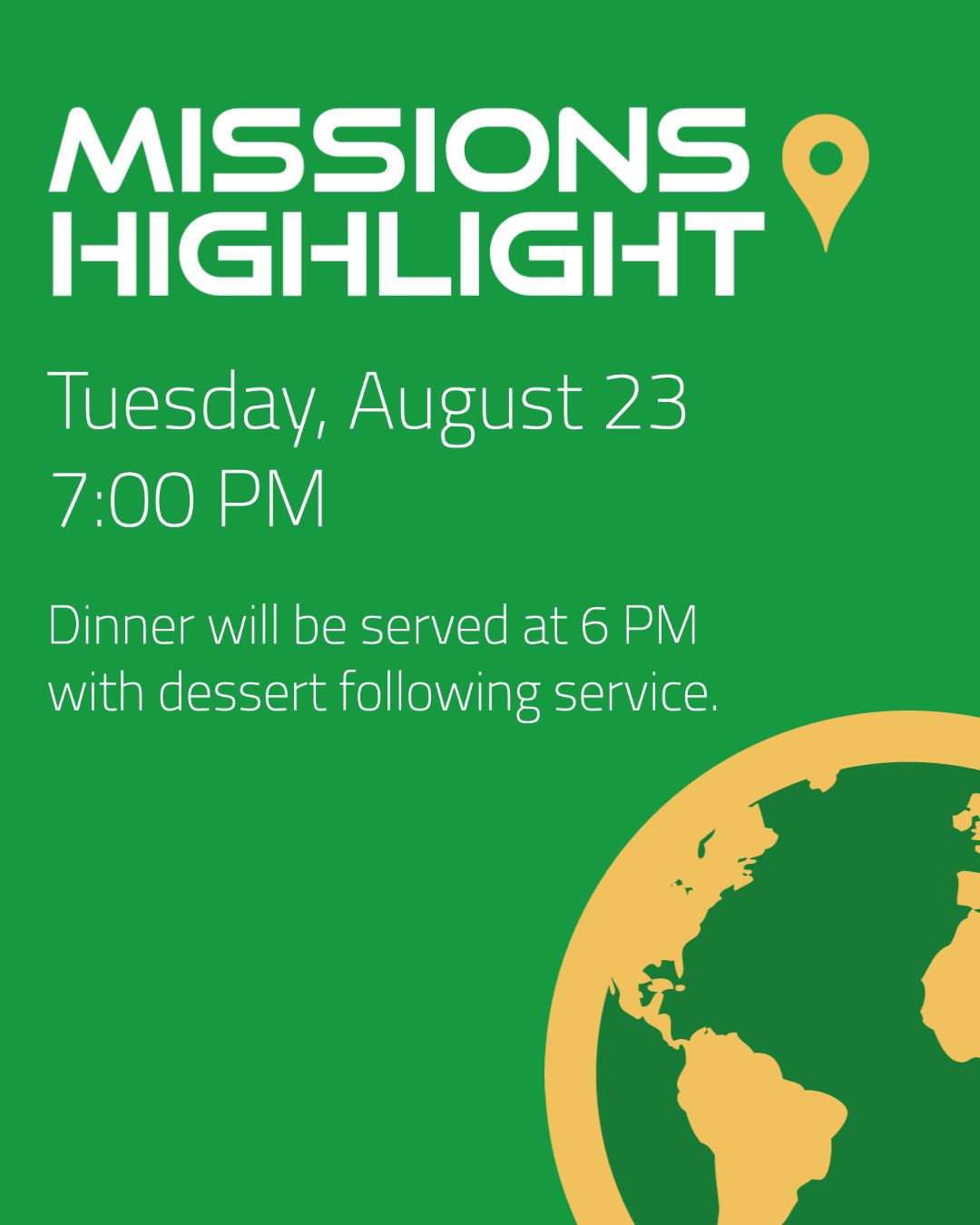 GCC is growing, and we are not just getting wider but also going deeper. One of the major areas we are going deeper is in God's great command to take His Gospel story to the ends of the earth. This year, we invited Pastor Kevin Kumher, GCC's new Mission and Outreach Pastor, to come and preach from Hebrews 12:1-4.
Join us for a night of worship, preaching, stories, food, and dessert. The service begins at 7 PM and will conclude by 8:30 PM. We will plan to serve food at 6 PM with dessert to follow the service.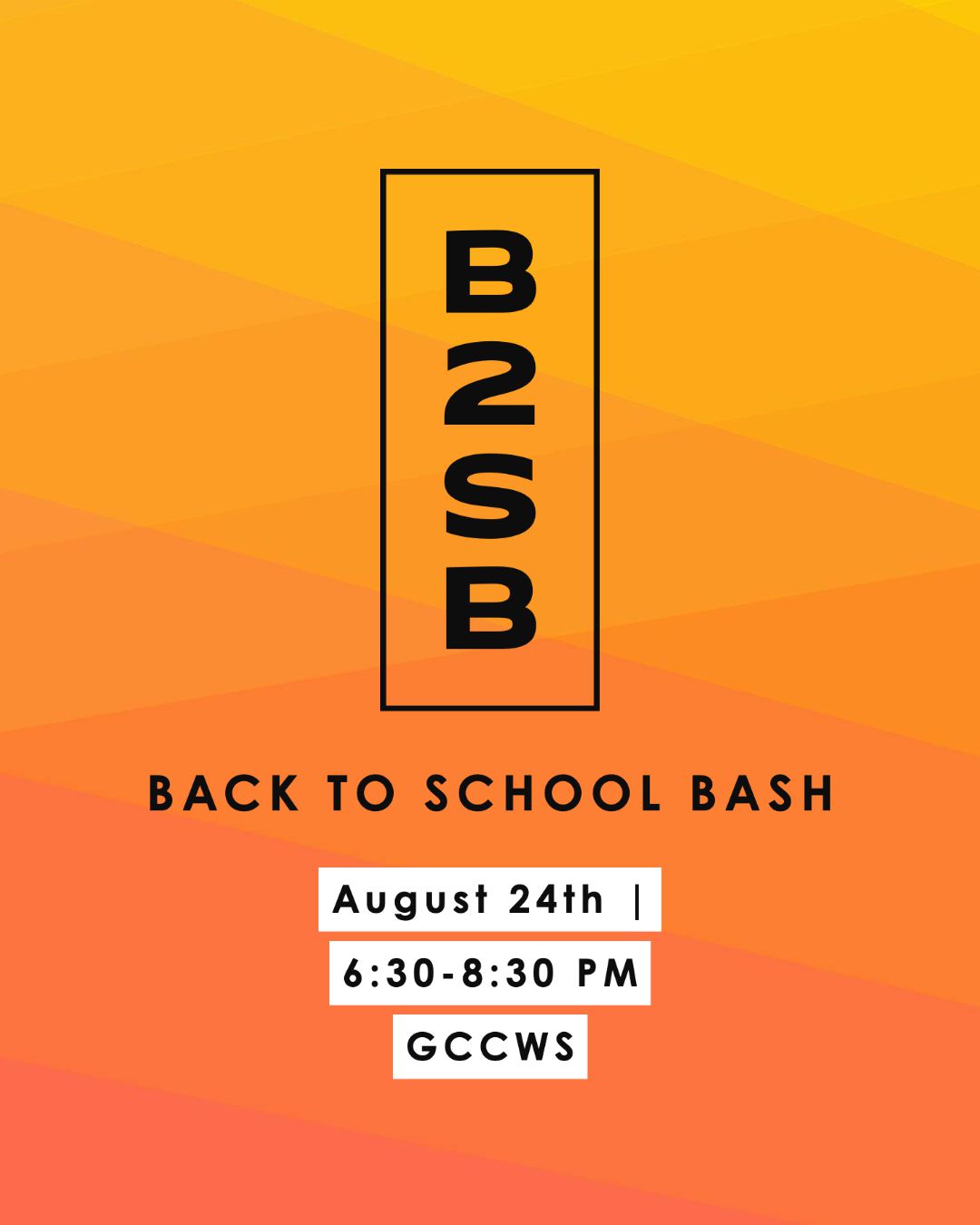 Join for the Back to School Bash on Wednesday, August 24th, from 6:30-8:30! As part of the Week of Celebration, we are celebrating the end of the summer with a big party for all of GCC Youth. Come bounce on one of several inflatable games! Sad to see summer go? With the new school year starting, drown your sorrows in a bag of popcorn or forget your own name with a snow cone brain freeze! We'll make lots of food to eat, so come hungry. Students who arrive will be entered into a drawing to win some amazing prizes, and if you bring a friend who doesn't normally attend GCC Youth, we will double your drawings!
Back to School Bash is open to all students in grades 6-12th, and we encourage any parents with first time students to stay and take the opportunity to get to know some amazing youth leaders. We can't wait to see you for what is definitely one of the highlights of the whole school year!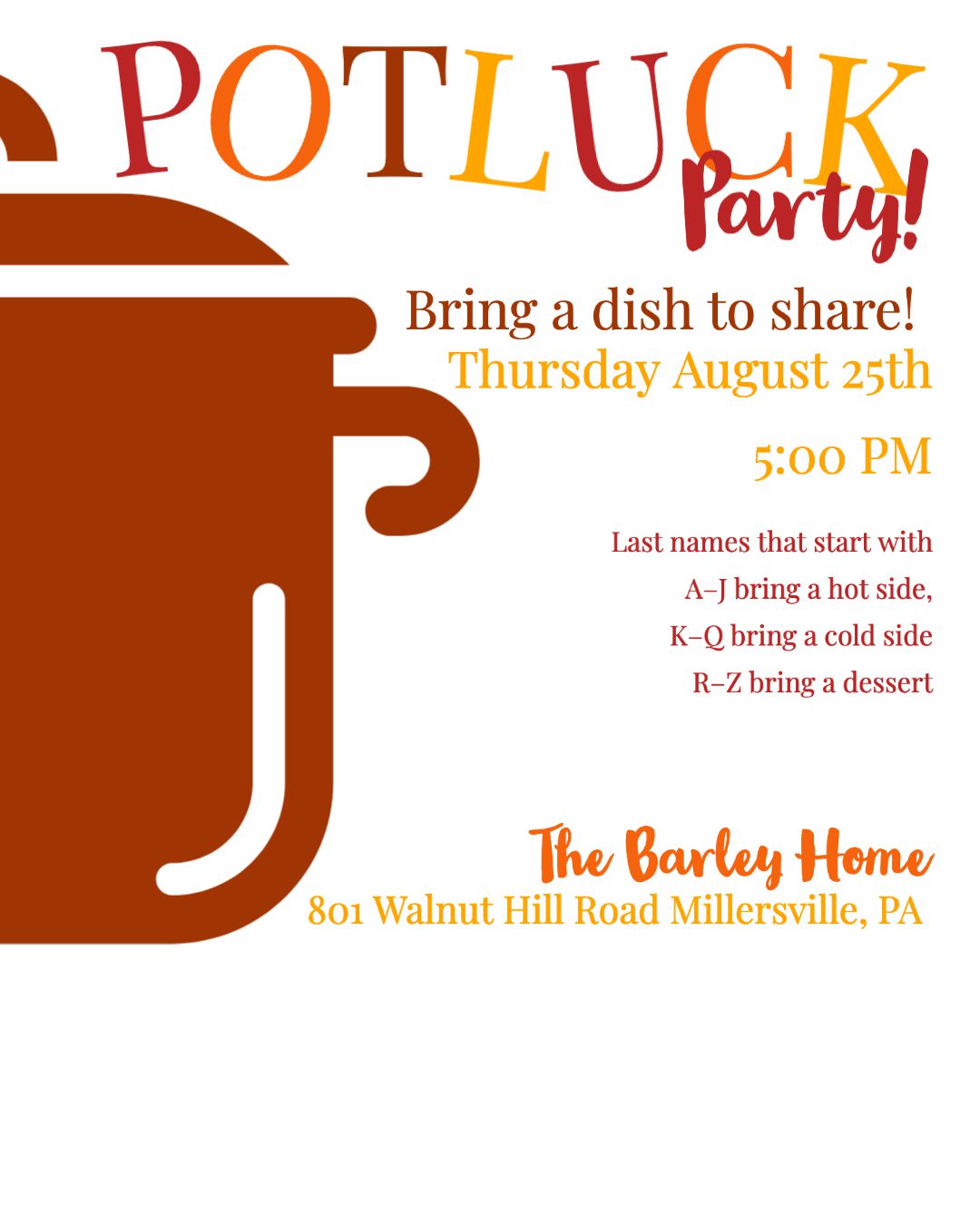 If you're a part of the Music and Arts Ministry (or want to be!), come enjoy an evening of food, fellowship, games and more with all musicians, techs, and GCC staff on August 25th at 5:00PM. Bring a lawn chair and food to share! Last names that start with A – J bring a hot side, K – Q bring a cold side, and R – Z bring a dessert to share. We will provide the main course. This event will be held at the home of Rob and Shelly Barley and we are asking you to sign up and let us know what you plan to bring!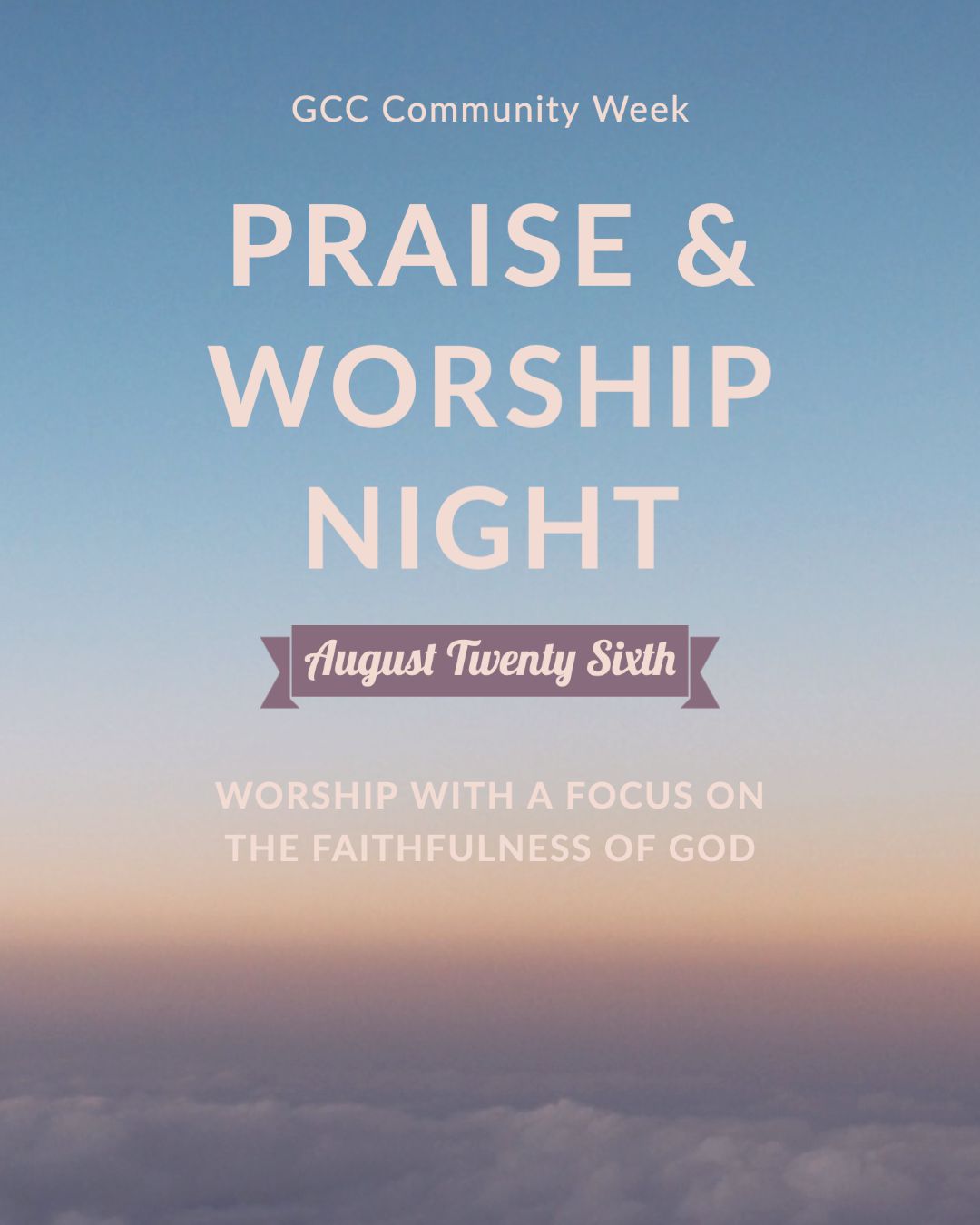 The Lord's faithfulness has now reached three, and in some cases, FOUR generations through the life of GCC. We trust that he has been with us, has gone before us, and is all around us, so join us August 26th at 7:00PM  for a night of praise and worship to thank God for the ways he has been faithful. If you have a voice, you're invited to join us to sing and learn about God's faithfulness! Lickety Split Ice Cream Truck will be on site to end the evening with fellowship!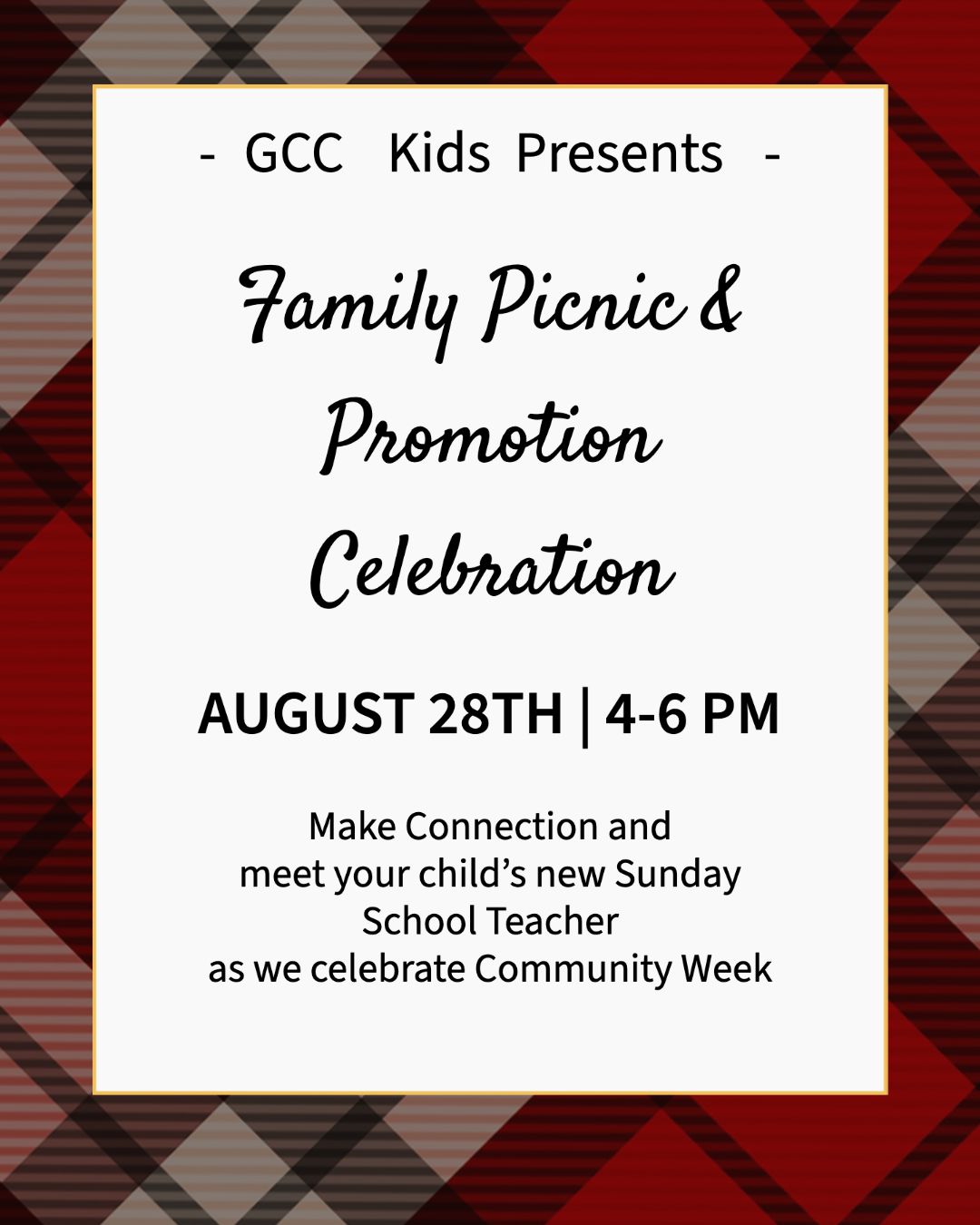 GCC Kids will be celebrating Community Week with a Family Picnic and Promotion Celebration on Sunday evening, August 28 from 4:00 – 6:00 pm. Families are encouraged to dig out a blanket and their picnic basket, cooler or  handy tote, pack a picnic supper and join the fun on the lawn at GCC! (In the event of rain, we'll spread out in The Commons.) The evening will include a picnic on the lawn (bring your own picnic supper – drinks and dessert will be provided), yard games, inflatables, Champions for Christ Awards, a Meet & Greet time with your new Sunday School teachers and a gift for all the kids! This will be a great opportunity for families to mix and mingle and make connections. Kids will have a chance to meet their teachers and classmates prior to Promotion Sunday, September 4.