This Week
Sunday
12:30 pm - Finding My Place
6:30 pm - Annual Congregational Meeting
Monday
6:30 pm - GriefShare
7:00 pm - Women's Ministry: Hebrews
Tuesday
9:30 am - Women's Ministry: Hebrews
7:00 pm - GCC Young Adults
7:00 pm - Love Them 2 Life
Wednesday
6:00 am - Men's Ministry
6:30 pm - GCC Youth at New Danville
7:00 pm - Mark Bible Study
7:00 pm - Men's Ministry
Thursday
9:15 am - Mornings 4 Moms
6:30 pm - Traditional Worship Team
6:30 pm - Ministry Council
7:00 pm - Grow My Faith
7:00 pm - By The Book Study
7:00 pm - Worship Team Practice
Saturday
10:00 am - Turkey Bowl at LS Field
Serve
AARP TAX PREPARATION VOLUNTEERS
GCC will once again offer free tax preparation for low and medium income individuals under the auspices of AARP TaxAide. Please consider becoming a volunteer preparer. If you have done your own taxes and have minimal computer skills, you will be a perfect volunteer. Training & certification will be in January for service between February 1 and April 15. Call June Wesbury at 717-464-4560 for more information.
GCC News
ANNUAL CONGREGATIONAL MEETING
Sunday, November 17 at 6:30 pm. The report packets are available in the lobby. The agenda includes presentation & vote on the 2020 budget, an update from the Capital Campaign Committee, information about Phase 2 of the building expansion, and the election of Ministry Council members.
INCLEMENT WEATHER NOTIFICATION
In the event of weekend inclement weather, service cancellation information will be posted in the following locations: GCC website & Facebook page, church-wide email, and radio stations WDAC and WJTL.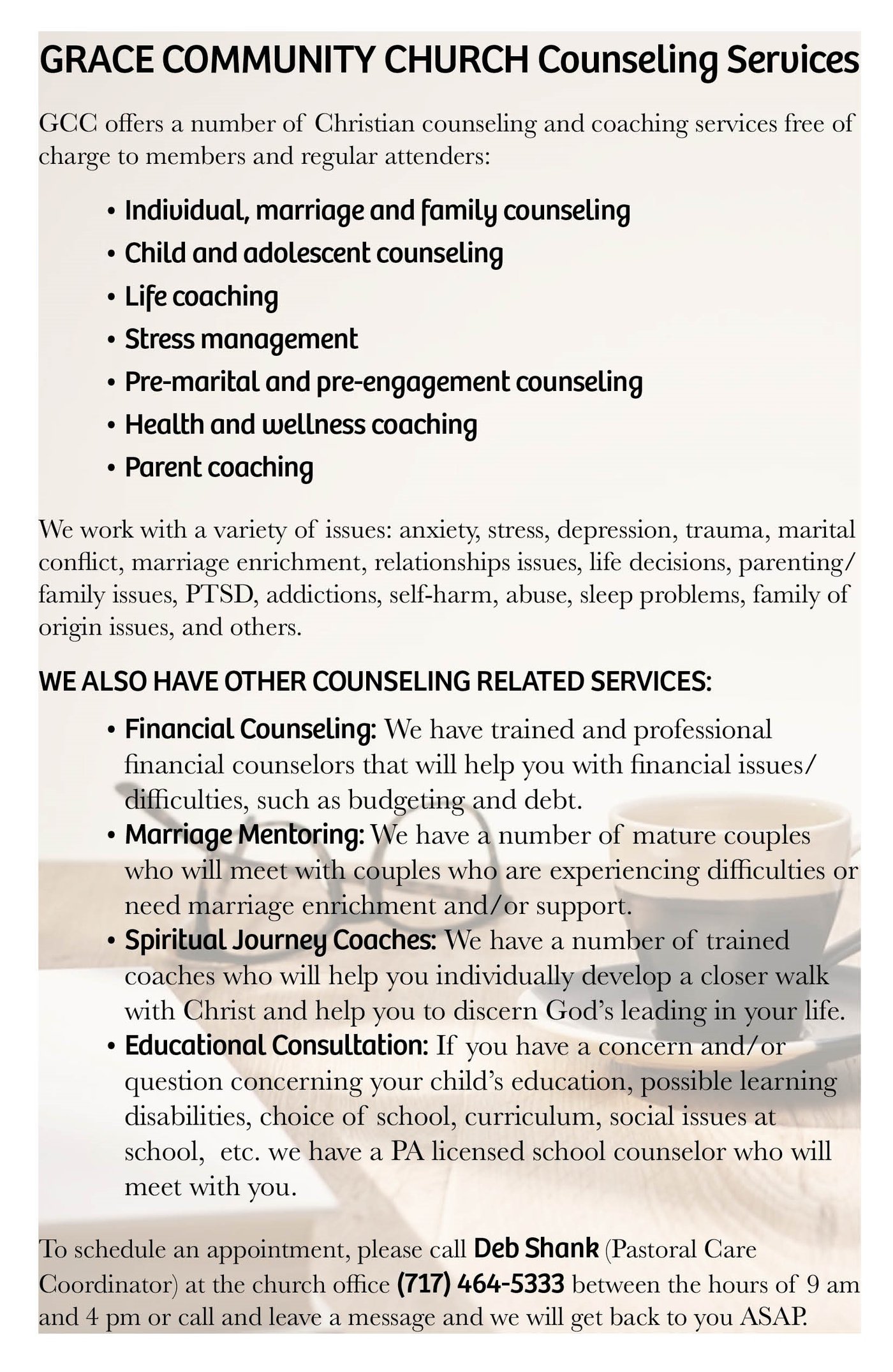 Worship
THANKSGIVING EVE & BREAD FEAST
Join a Thanksgiving worship celebration of song, prayer and a special message from Pastor Mike on Wednesday, November 27 at 7:00 pm. Our annual Bread Feast will follow the service. Bring your favorite breads and spreads to share. Nursery to age 4 will be available during the service.
SERVICE OF REMEMBRANCE
Join a special memorial Christmas service on Sunday, December 8 at 6:30 pm to honor loved ones who have passed away. For more information, please contact Pastor Jared.
CHRISTMAS EVE CELEBRATIONS
The Children's Christmas Eve Celebrations are on Monday, December 23 at 6:00 & 7:30 pm. Celebrate the birth of our Savior with a special Children's Musical, A Christmas Carol Special Report: Celebrating Christmas Carols from Around the World. Joy-filled worship includes Angels We Have Heard on High, Candle-lighting and Joy To The World. Each child will receive a special gift following Pastor Mike's special Christmas message.
Christmas Eve Celebrations are on Tuesday, December 24 at 4:00, 6:00 & 8:00 pm. The prelude includes multiple ensembles presenting well-loved Christmas songs both instrumental and vocally-driven. Worship is filled with traditional carols and contemporary Christmas music. The Christmas message by Pastor Mike, Be Born In Us Today! focuses on what it means to be "born again". Invite friends, family & neighbors to this Christmas celebration!
CHILD DEDICATIONS
Parents who wish to present their child in dedication to the Lord during a GCC worship service should contact Pastor Mike Sigman at mike@gccws.net. We look forward to making the commitment to help you bring up your child in the faith of the Lord Jesus Christ!
Connect
READY TO JOIN GCC?
If you are currently a member of an Evangelical Congregational Church or you have taken a GCC membership class but have not yet joined, we invite you into the membership of the church. New members will be received next weekend. Contact Pastor Mike Sigman at mike@gccws.net for more information or to be received as a member.
EAT & MEET
Eat & Meet is Sunday, December 8 from 12:30-2:00 pm. GCC pastors love to meet new people attending GCC! Lunch will be served. Sign up using the tear-off form or online.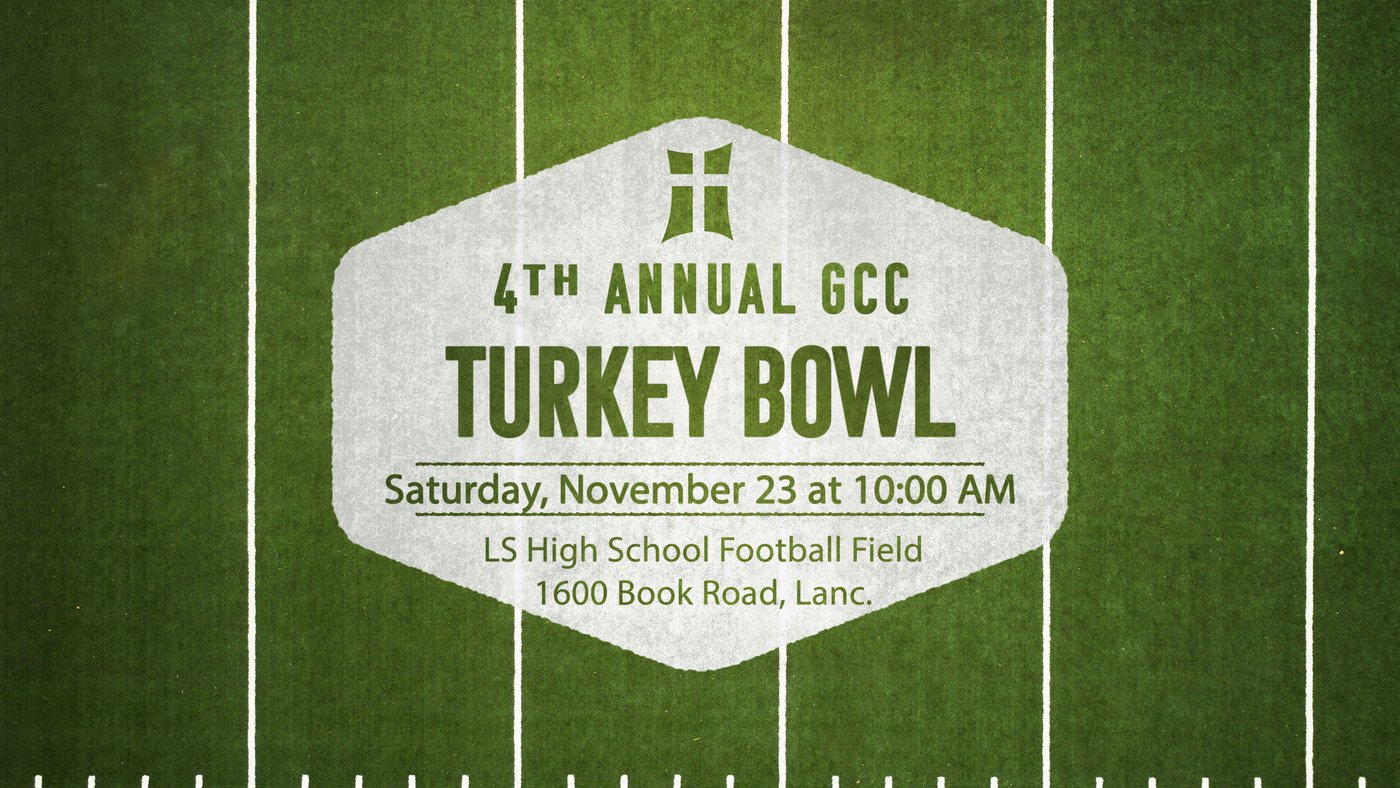 Give
PASSION PANCAKES & KILLER KOFFEE!
Come out on Saturday, November 23 from 8:30-10:00 am to support GCC Young Adults to attend the Passion Conference in Atlanta this January! A buffet-style Pancake & Coffee Bar with toppings, hot chocolate, & fruit will be available. This breakfast will be held at LS immediately before the Annual Turkey Bowl! Breakfast is by donation, and all of the proceeds will support Young Adults. Consider donating food items to help reduce expenses! Contact Pastor David for details!
ELIZABETH MARTIN ELEMENTARY CHRISTMAS OUTREACH
GCC will provide wrapped Christmas gifts & toiletry items to bless families in need from Elizabeth Martin Elementary School in Lancaster City School District. Suggestion cards with specific gift ideas are available in the lobby today! Wrapped gifts are due by December 15. Please contact Pastor Jared for more information.
WINTER CLOTHING DRIVE
GCC is collecting gently-used winter clothes, outer wear, and shoes now through December 8 to donate to local Elementary through High School-age children in need. Please drop off your donation items in the box located in the main lobby. Monetary donations are also accepted to be used to purchase winter items. Please contact Pastor Jared for more information.
SOLANCO FOOD BANK (SFB)
The November SFB focus items are:
-Stuffing mix
-Turkey gravy
-Canned green beans
-Canned carrots
-Chicken or beef bouillon
-Chocolate pudding mix