Grace Community Church Mission: Helping People Know & Follow Jesus!
Grace Community Church is a special place. Our 25-year history began with a dream and the knowledge that we were a part of God's plan. From the use of rental spaces to the development of our first building on Peach Bottom Road, our congregation grew and our Christian outreach rapidly expanded. Our past has become the inspiration for our future. Three years ago, we were serving more than 1000 worshipers every weekend. More space was needed to serve our community. So, we created a plan.
 Phase One of the plan was created and accomplished including:
A new two-story educational wing.
New parking lots with increased capacity to 256 spaces.
Enlarged office space allowing staff to work on-site.
Components planned for Phase Two:
A new sanctuary with seating of 535.
A Multi-Purpose Room to support special events and church activities.
Commercial-grade kitchen.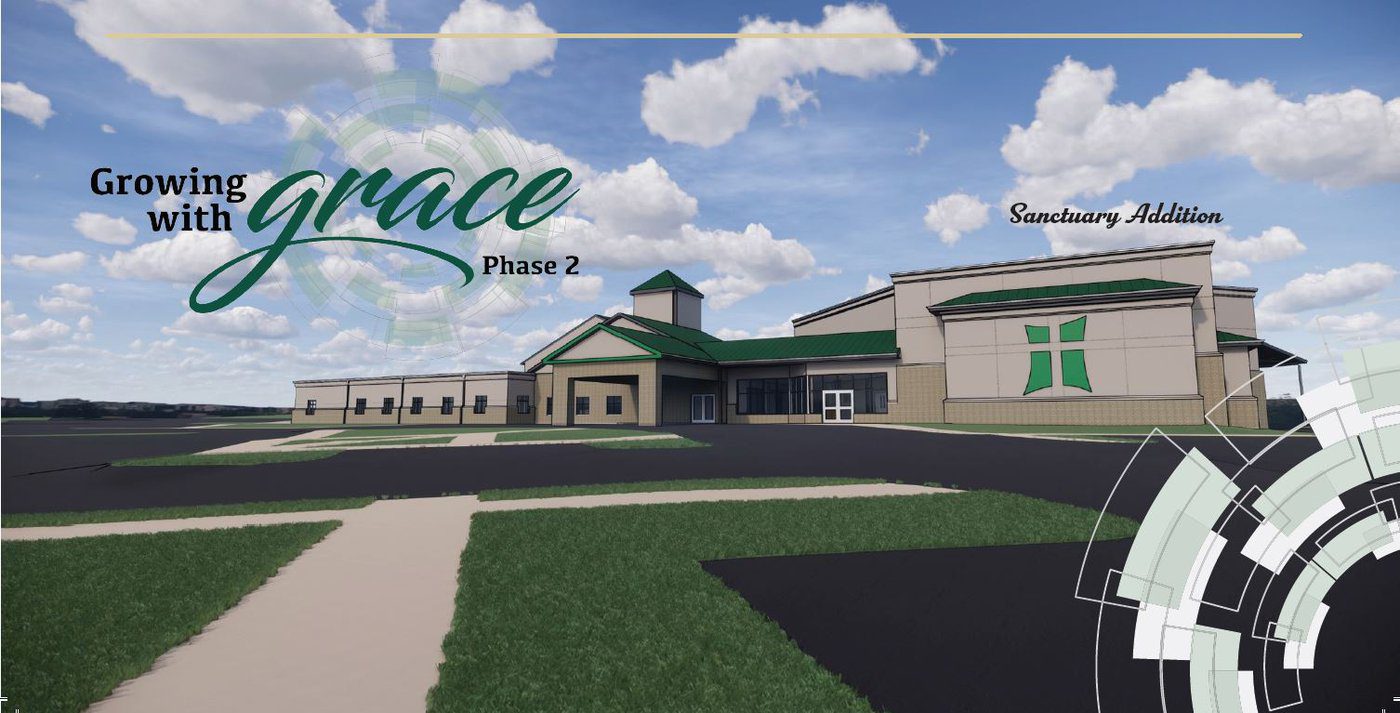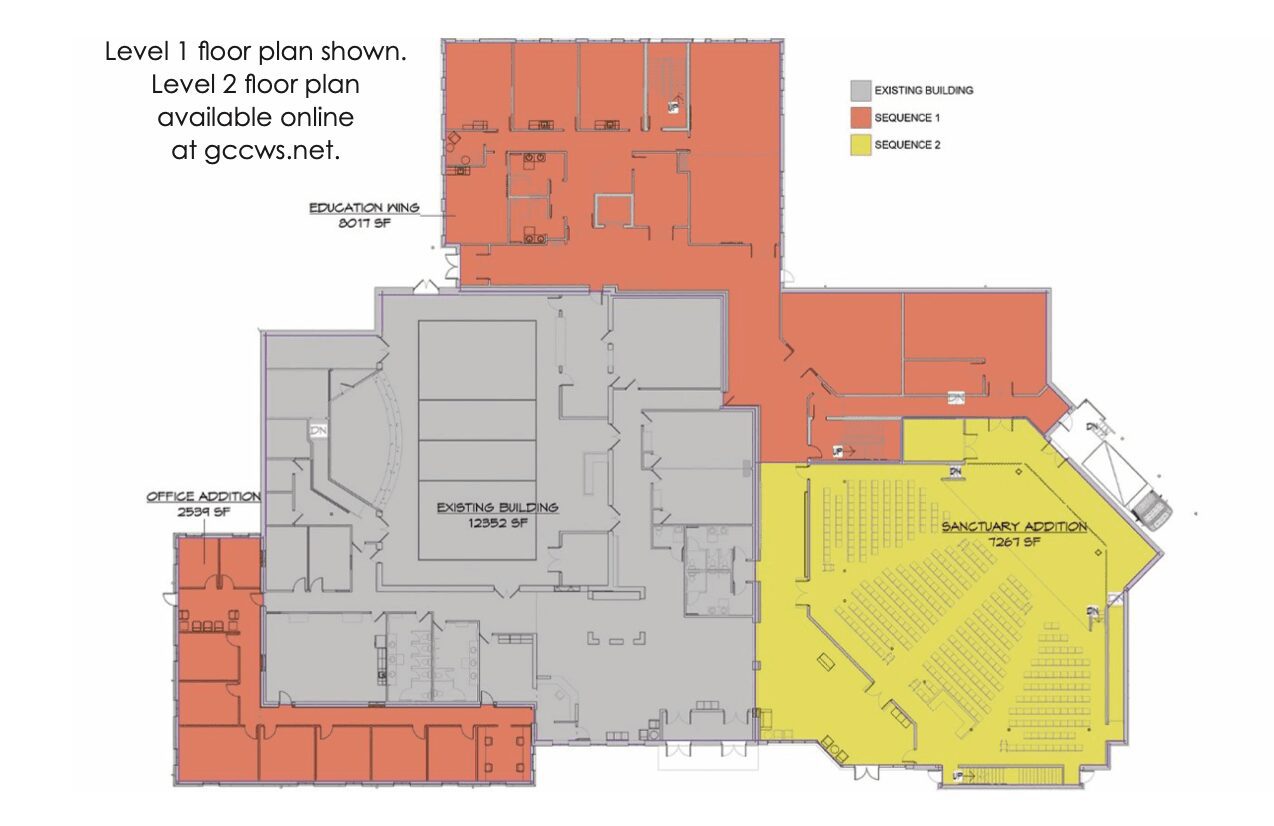 Capital Campaign Goal for Phase Two – $3.7 Million
Construction and Finance Plan
The completed two-phase campus expansion plan will cost about $8 million.
Phase One, at a cost of $4.3 million, has been completed and financed by more than $3.3 million in cash gifts plus the support of promissory notes provided by congregation members and friends. No long-term commercial loans were needed.
Phase Two, at a cost of $3.7 million, is ready for implementation starting with the shell of our new sanctuary which will complete all external structure construction and elimination of major campus interruptions. Internal construction, renovations and equipment installation will follow. Completion is expected in Spring 2022.
How You Can Be Part of the Three Year Campaign
We need your help! The success of this Campaign ultimately rests with God, and the response of His people. Now is the time for each of us to make our commitment to finance this important work. Financial commitments are a personal matter that can only be decided after prayer and reflection. Consider giving according to your means, giving as God has given to you knowing that we are stewards of God's gifts and enthusiastic followers of Jesus Christ!
Pledge cards are available for you to indicate your commitment to the Campaign, remembering that the GCC operating budget and programs will continue to need your support. Pledge cards can be mailed to GCC or dropped in the offering boxes in the auditorium.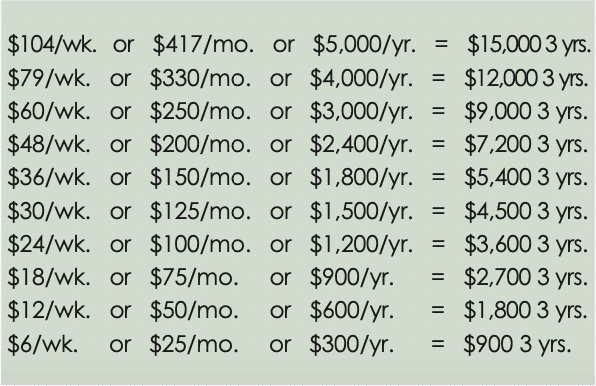 Use this guide to help you do the math and get an idea of how your Capital Campaign contribution will add up over three years. Dollar amounts have been rounded.
If you have any questions regarding the Capital Campaign or would like to discuss your pledge, please contact the GCC office to be connected with a Capital Campaign Committee member, 717-464-5333,
Thank you for your generous support as we continue Growing With Grace at GCC
How You Can Be Part of the Three Year Campaign
Sign shares of stock over to the church. Simply list shares on your card and GCC will contact you to arrange the transaction.
Sell unused or unneeded items and contribute the proceeds: i.e. jewelry, collectibles, antiques, vehicles, property.
Make a sacrificial gift by giving up something and transferring the money you save to the Campaign. Giving up a $1.50 beverage per day = 10.50 per week = $564.00 per year = $1,638 over the 3-year campaign.
Share part of an inheritance.
Give directly from an IRA.
Put off buying something new.
Clip coupons and contribute the savings.
If contributing by one of these methods, note the gift and approximate value on your Campaign Pledge Card to help determine the total money pledged.
Construction Update Spring 2021
GCC has now completed renovations to the commercial kitchen and former worship auditorium! It has been amazing to watch the hand of God at work through the expansion projects at GCC. The newly renovated spaces will provide an atmosphere and opportunity for our church family to continue to connect and grow in Christ. The question now is – what do we call our former sanctuary which is newly renovated? The names "Fellowship Hall" or "Family Life Center" just didn't seem to adequately describe our newly renovated space. As we considered the name, we were struck by the reference made in Act 2:42-43 to the life of the 1st-century church:
"And they devoted themselves to the apostles' teaching and the fellowship, to the breaking of bread and the prayers. And awe came upon every soul, and many wonders and signs were being done through the apostles. And all who believed were together and had all things in common." 
So often, when we think of the early church, this passage comes to mind – all who believed were together and had all things in common. Christ is who we all have in common. Despite differences in age, background, race, economic status, etc., Christ is the one who brings us together.
That's what our old sanctuary has become – the place where we all come together with a common purpose. Naturally, then, it seems the best name for our space should be The Commons. We look forward to the impending opening of The Commons and how God will use this space as a tool to help people know and follow Jesus.
There is much to be thankful for in this project, and we give all the glory to the Lord for his faithfulness and provision. In addition, there are even more exciting updates –
GCC's Youth Ministry is growing! Wednesday Night Youth Group has hit its peak attendance of over 90 students. New students continue to join GCC's Youth Ministry, and God is moving in powerful ways in the hearts of our teens. The new commercial kitchen and The Commons with basketball nets and room for large group activities are much needed for our growing youth ministry.
GCC Kid's Ministry continues to increase. Over 160 children nursery – Grade 5 attended Sunday school last weekend. KidsPraise, GCC's Sunday school music ministry, has outgrown the classroom and are looking forward to using larger space in The Commons. Our kids are learning from an early age to know and follow Jesus.
God has provided! Through your generous and sacrificial gifts, GCC will likely not need to engage in a commercial loan at this time to complete Phase 2 of the expansion project. The only remaining debt on the 1st and 2nd phases of the expansion is $1.3M in promissory notes lent to GCC through members and attenders of GCC. Your continued support of the Growing with Grace campaign through February 2024 will directly pay down the promissory note debt.
Thank you for your continued prayers and support of the ministry of GCC. Together, we are Growing with Grace at GCC!
Construction Update Fall 2021
Finishing touches are being complete, and we are nearing our move-in date for the new sanctuary. Thank you to Ira G. Steffy and Sons for the beautifully crafted cross that was custom-made for the exterior wall of GCC's new sanctuary. Much thanks also to Arthur Funk and Sons for incorporating renovations to GCC's Cafe in this phase of the construction project. The Cafe has served as a wonderful space for fellowship and worship.
As we close out 2021, we give thanks to God for His blessing and provision. By His hand the project has run smoothly and on schedule. Your generous support for the campaign has delayed the need to receive commercial lending to this point. Thank you for your sacrificial support to the Growing With Grace campaign. Just over $430,000 is needed to fund the Second Phase of expansion at GCC fully.
To support the Growing With Grace campaign, online giving is available, or gifts can be made payable to Grace Community Church with "Growing With Grace" listed in the memo. To pledge support for the remaining two years of the campaign, use the pledge form at the bottom of the page. Creative giving options including stock transfers and gifts through IRAs and charitable giving organizations, are also available by calling the church office.
Construction Update: Summer 2021
Much of the exterior face of the new sanctuary is now complete! The drivet is finished with decorative etching. The 'storefront' glass wall has been installed in the new lobby bringing in lots of natural light.
A temporary wall has been constructed in the current lobby as the contractors "break through" to connect the existing lobby with the new lobby.
GCC's Building Committee Chairman, Randy Goodhart, has provided an interior "tour" on Facebook. Check out GCC's Facebook page to watch the video.
Funding for the sanctuary project continues with enthusiasm. GCC is over 80% to the fundraising goal through pledges and gifts received. Interested in joining the excitement? Give Online using the Growing With Grace fund or note Growing With Grace in the memo line of a check. Contact Brandi Wenger if you have questions about supporting the expansion at GCC.
Construction Update: Spring 2021
Structural steel is complete! The building is taking shape including the structure for the sanctuary balcony. In addition to the structural steel, the concrete is finishing, and exterior wall framing has started. Coming soon will be the metal stair pan for the new stair tower.
Your faithful support is making a difference! The Growing With Grace Campaign has currently received or pledged a total of $2,808,911.00. This is 76% of the fundraising goal. You can join the excitement by completing a pledge card at the bottom of the page or give online to Growing With Grace – Capital Campaign. Your support is making room for one more!
Construction Update: April 2021
Structural steel was set this week. Huge thanks to Arthur Funk & Sons Inc. and Ira G. Steffy & Son Inc. for their dedicated work to this project. The building is taking shape! It's not too late to join the campaign. Scroll down to submit your confidential online pledge, or pick-up a pledge card in the GCC lobby this weekend.
The site work and excavation is complete, and concrete was poured this week! Check out a great video of the process on Facebook. Structural steel will be installed next week, and the building will start to take shape.
To date, over $2,770,000 has been pledged or received for the Growing with Grace campaign. We are 75% to our goal of $3.7M. Thank you for your prayers and for your faithful support as we "make room for one more."
Grace Community Church is a member congregation of the Evangelical Congregational Church, a denomination headquartered in Myerstown, PA. Our denomination is comprised of people – people just like you – committed to sharing the Gospel of Jesus Christ, so that men, women, and children may experience saving faith in Christ. The people of the E.C. Church seek to help new believers discover their place in a family where they can know support on their faith journey, a journey that leads to personal growth in Christlikeness. Learn more about the Evangelical Congregational Church here.
More than ever, Grace Community Church remains committed to its mission. We want to help people know and follow Jesus.  As a church family, we value community as we worship, serve, and do life together in the Body of Christ. We currently envision a third phase of construction which will include a new sanctuary and the renovation of our current sanctuary into a family life center. We also envision the multiplication of church in and around Lancaster County. To learn more about our future ministries, attend an Eat and Meet or Tell Me More class. Information about when these classes will be offered next is available in our discipleship leaflet.
What does this mean for you?  It means you are welcome at Grace Community Church.   We're saving a seat for you.   There is something for you no matter where you are in your faith story.  We would love to walk with you on your journey to know and follow Jesus.  
Beyond that, if you're ready to plan your first visit, click here. If you want to learn more about our beliefs as a church, click here. Or if you'd simply like to get in touch with a person on our lead team directly, click the button below.